Round 8&9, Saturday & Sunday, May 25th and 26th at Hemond's MX in Minot, Maine


Spend Memorial Day weekend in the beatutiful state of Maine at Hemond's MX. Nice grass covered pit area with lots of spots that have a view of the track. One of the most favorited tracks in New England, lots of elavation changes, big, soaring jumps, fun bowl corners and lots more.
It'll be a fun one to race or to bring the family to. Hemond's will be serving up breakfast, lunch and dinner cooked in their new kitchen so come hungry and let them do the cooking for you.

The Pro/Expert classes have been stacked at the first few races making for the best outdoor motocross action this side of a National.



50 and 65 classes WILL be run at Hemond's


Please note that the 50s and 65s will run together but scored separately.





Saturday night concert by Live Wire


Bring your dancing shoes! The band Live Wire will be performing on Saturday night at Hemond's



Gate times


Open Friday from 3-11PM
Saturday from 6AM-11PM
Sunday 6AM
Sign-up Sunday 6:30-7:45 AM
Gate fee 10.00 per day for adults and $5 dollars a day kids 4-12



Please bring your NESC and insurance card to sign-up


All the tracks will be requiring riders to show their NESC card as well as their proof of medical insurance card.



Directions to Hemond's MX


The track is not far off Rt. 95 just outside of Lewiston, Maine, follow these directions if you've never been before



Race order for 5-19 at NHMX



5/25/19 Hemonds
1
50cc/65cc
2
Youth C
3
Youth B
4
250 A/ Pro / Youth A
5
250 C
6
450 B
7
Super Mini
8
45+ Open/ 60+ Open
9
450 C / 40+ C
10
250 B
11
450 Pro/A
12
55+ Open/ Female
13
40+ A/B
14
25+ A/B/C
15
Open Novice
16
Open Amateur
17
Open Expert
18
85cc 7-11/12-15 yrs
19
50+ Open/30+ C
20
30+ A/B
5/26/19 Hemonds
1
50cc/65cc
2
Open Amateur
3
Open Expert
4
85cc 7-11/12-15 yrs
5
50+ Open/30+ C
6
30+ A/B
7
Youth C
8
Youth B
9
250 A/ Pro / Youth A
10
250 C
11
450 B
12
Super Mini
13
45+ Open/ 60+ Open
14
450 C / 40+ C
15
250 B
16
450 Pro/A
17
55+ Open/ Female
18
40+ A/B
19
25+ A/B/C
20
Open Novice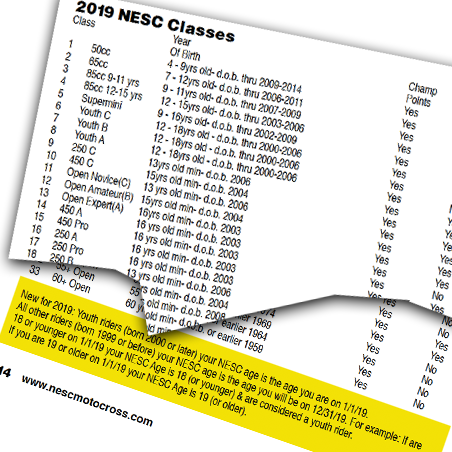 Youth class age updates


In order to be more in line with the age requirements with other organizations we've changed the Youth Class age definitions for this season. Now whatever age you were on January 1st is your NESC age. This applies to all the Youth Classes from the 50cc up to the Youth A.



Used tires, oil and trash must be taken home


Please don't leave this stuff in the pits when you leave Crow Hill(or any track) carry in and carry out.



Renew your NESC membership or sign-up for a new one on-line now !


Use this on-line form to renew your membership
Families are ale to use one form for multiple riders by clicking Yes when asked if they'd like to add a second, third, fourth rider.

Don't get stuck in that long line of people signing up at the first race, join today!

If you'd prefer to mail in your renewal print out this form


One day riders get your info into the system!
Help save us some time on race day by submitting your information using this super easy on-line form.
You'll still need to print, sign and have notarized this short wavier and provide payment for your membership in person, at the track.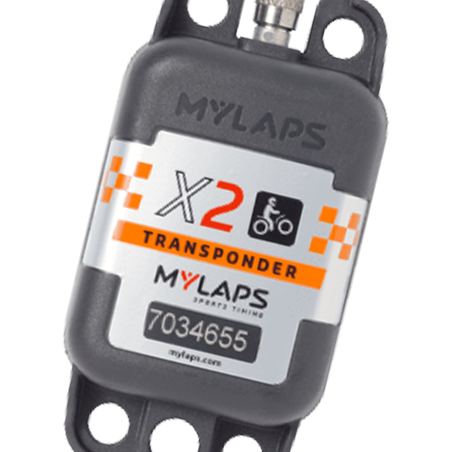 Transponder update!
All NESC members must own a transponder, the NESC has less than 50 units available to rent to one day riders. Please make sure to order one in time for the first race and if you already own one please charge it.
Note: the orange transponders will still work, please make sure those are charged and that your subscription is still active.

More info and ordering info is at Speedhive.


2018 NESC rule book pdf
The 2018 edition of the rule book is available as a pdf download at this link


New mailing address for the NESC office
Please send all NESC forms to NESC P.O. Box 956 Moosup, CT 06354


New email address for the NESC office
Annette Rose-Fry will be taking over the Competition Committee this year, please click here to email her any questions


2019 NESC applications on line
Get a jump on next year and save your number by renewing your NESC membership today.
You can download the form here

NESC Digital Newsletter
Stay up to date on all the latest info from the NESC, subscribe to the newsletter by clicking here.

2019 NESC Board of Directors
Mailing address:
NESC
P.O. Box 956
Moosup, CT 06354

Email address:
Click here to send an email to the NESC
2013 Board of directors

David Clemence President
Michael Degaetano/Jack Camelio Co Vice presidents
John Delgrosso Treasurer
Shaunna Knuth Secretary

Click on any name highlighted in orange to send that person an email.
Rider Reps:

Jason Hargreaves
Jason Allan
Bryan Cournoyer
Austin Brooks
Jack Courtney
Andrew Rossi
John Silvia



Alternate Rider Reps:

John Majcher
Brittani Majcher
Ruth Pepoon


Competition Committee:
Annette Rose Fry
Deborah Genereux





Mylaps transponder update

Mylaps has finally given riders some updates and now they have a "fix" for the older version X2's that would not connect/charge. The NESC has a few of these "fix" packs available at sign-up. Newer versions will not have the issue. Also there are instructions on how to tell if the X2's are activated and how much time they have left.
You can read more here


Transponders

Remind everyone to charge their Flex and Classic transponders for at least 12 hours before race day. Newer X2's require only 4 hours to charge.

If they are blinking fast red then they need to buy more time directly from Mylaps; their subscriptions are expired or for the new X2 units, they need to be activated before use.

Expired Flex units: You must purchase more time on Mylaps.com and then connect the transponder through your computer to the Flex Manager program on the Mylaps website and activate them.

For fast blinking X2 units they must be activated directly from the Mylaps website, by logging on to the rider's Mylaps account.

Also it is very important to understand that the parental consent form listed is for parents that are sending their minors to race events where they will not be present. They must name the person acting as guardian for the day, it must be notarized and we need a new form for every event. We have no blanket minor releases at NESC.

Did you know...

Did you know that the NESC is a non-profit corporation? The NESC runs off only the funds collected from membership fees (either full year or one day) and the transponder rental fees. The NESC does not make money from the race entries and gate fees at the races.
Did you know that one dollar from every entry goes into the Tom Timonen Fund that is in place to help riders injured in NESC races?

The NESC Scholarship program.

This fund awards $2,000.00 annually to college students meeting NESC requirements.

Eligibility requirements: Must be a NESC member for at least two years in good standing and a full time student at a fully accredited college, university, or technical school. Rider must have attended at least 10 NESC races in the current year.

Application process:

Compose a cover letter to NESC requesting consideration for the NESC Scholarship program; naming the college/course of study you plan on attending.

A copy of your final grades from the most recent term.

A letter from your college registrar's office confirming acceptance to the school.

Please send the above requirements by November 1st; we will make the decisions for awards just prior to the annual banquet.

Deadline to apply is November 1st of the current racing year.

Please send your information to


NESC Scholarship

NESC
P.O. Box 956
Moosup, CT 06354

NESC on Facebook

Like the NESC page on Facebook to see last minute updates and other important info.

Huge points fund for the Pro/Expert classes

Last year $25,000.00 was paid out at the Awards banquet to the Expert and Pro riders in the top 15 and this year with bigger turn outs it could be even more.

100% plus payback ten spots in the 250 & 450 expert/pro motos

Not 3, not 5, but all the way back to tenth place*! No New England series pays out what the NESC races pay out. *Riders must place in the top ten of a moto (combined expert and pro to win cash). Expert class riders are also eligible for trophies in their class.

Address changed?

If you have changed your address this year, please notify the NESC by email ASAP.