Corona Virus update May 1st!


After talking to all the tracks who have also been talking to their state governments we have to temporarily postpone the 2020 Race Schedule until further notice until the Centers for Disease Control and Prevention deems that it is safe to resume normal activities.

This is a temporary set back, but we are optimistic that we will get the race year under way as soon as possible. At that time, we will discuss how to address the race schedule and the race series set up.

NESC will reevaluate the situation in early June. Stay tuned for updates via the NESC Website.



Renew your NESC membership or join on-line now!


Use this on-line form to renew your membership
Families are able to use one form for multiple riders by clicking Yes when asked if they'd like to add a second, third, fourth rider.

Don't get stuck in that long line of people signing up at the first race, join today!

If you'd prefer to mail in your renewal print out this and mail it to:
NESC
PO BOX 609
North Berwick, ME 03906



Rule update on communication devices


The NESC has decided to adopt the same standard as the AMA when it comes to electronic communication devices.
Use of electronic communication with the rider or use of a portable electronic device of any kind (i.e. digital music device) that would be considered a distraction while on the motorcycle during the meet is prohibited. form



250 2-stroke legal for the Youth A class


We've updated the Youth A class bike rule for the Fall series, since that class runs with the Pros and Experts who can ride 250cc 2-strokes we'll now be allowing Youth A riders to ride them as well.

The bike regulations for the Youth B and Youth C classes have not changed.



New mailing address for the NESC


Please note that any mail in applications or correspondence should be mailed to:
NESC
PO BOX 609
North Berwick, ME 03906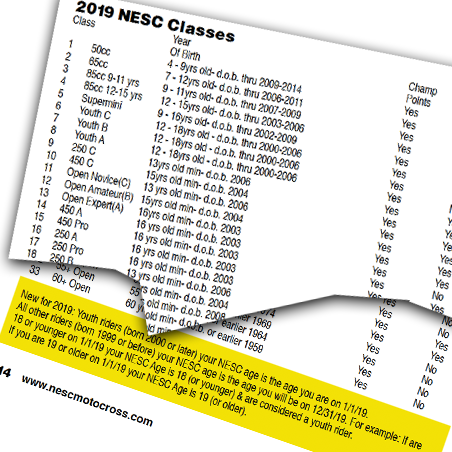 Youth class age updates


In order to be more in line with the age requirements with other organizations we've changed the Youth Class age definitions for this season. Now whatever age you were on January 1st is your NESC age. This applies to all the Youth Classes from the 50cc up to the Youth A.



One day riders get your info into the system!

Help save us some time on race day by submitting your information using this super easy on-line form.
You'll still need to print, sign and have notarized this short wavier and provide payment for your membership in person, at the track.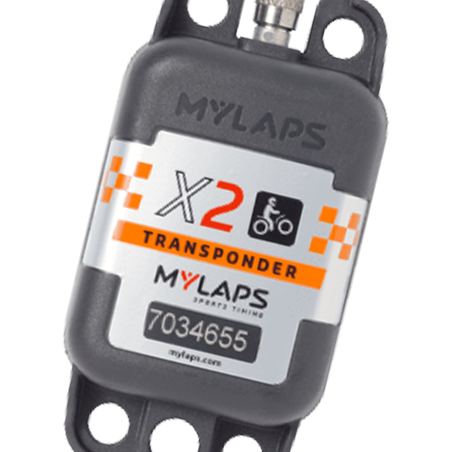 Transponder update!
All NESC members must own a transponder, the NESC has less than 50 units available to rent to one day riders. Please make sure to order one in time for the first race and if you already own one please charge it.
Note: the orange transponders will still work, please make sure those are charged and that your subscription is still active.

More info and ordering info is at Speedhive.


2019 NESC rule book pdf
The 2019 edition of the rule book is available as a pdf download at this link

email address for the NESC office
The Competition Committee can be reached at this email

2019 NESC Board of Directors
Mailing address (updated 10-11-19):

NESC
PO BOX 609
North Berwick, ME  03906



Email address:
Click here to send an email to the NESC
2019 Board of directors

David Clemence President
Michael Degaetano/Jack Camelio Co Vice presidents
John Delgrosso Treasurer
Janice Majcher Secretary

Click on any name highlighted in orange to send that person an email.
Senior Rider Reps:

Jason Hargreaves
Jason Allan
Bryan Cournoyer
John Majcher
Jack Courtney
Andrew Rossi
Kenny Robertson



Alternate Rider Reps:

Dennis Fazio
Tyler Faulkner
Jack Flanagan
Thomas Lanphear
Brittani Majcher
Josh Pyron
John Silvia


Competition Committee:
Deborah Genereux
Ruthie Pepoon


Did you know...
Did you know that the NESC is a non-profit corporation? The NESC runs off only the funds collected from membership fees (either full year or one day) and the transponder rental fees. The NESC does not make money from the race entries and gate fees at the races.
Did you know that one dollar from every entry goes into the Tom Timonen Fund that is in place to help riders injured in NESC races?
The NESC Scholarship program.
This fund awards $2,000.00 annually to college students meeting NESC requirements.
Eligibility requirements: Must be a NESC member for at least two years in good standing and a full time student at a fully accredited college, university, or technical school. Rider must have attended at least 10 NESC races in the current year.
Application process:
Compose a cover letter to NESC requesting consideration for the NESC Scholarship program; naming the college/course of study you plan on attending.
A copy of your final grades from the most recent term.
A letter from your college registrar's office confirming acceptance to the school.
Please send the above requirements by November 1st; we will make the decisions for awards just prior to the annual banquet.
Deadline to apply is November 1st of the current racing year.
Please send your information to

NESC
PO BOX 609
North Berwick, ME 03906
NESC on Facebook
Like the NESC page on Facebook to see last minute updates and other important info.
100% plus payback ten spots in the 250 & 450 expert/pro motos
Not 3, not 5, but all the way back to tenth place*! No New England series pays out what the NESC races pay out. *Riders must place in the top ten of a moto (combined expert and pro to win cash). Expert class riders are also eligible for trophies in their class.
Address changed?
If you have changed your address this year, please notify the NESC by email ASAP.